Subsale refers to the sale transaction of an uncompleted building before obtaining its Certificate of Statutory Completion (CSC). Usually, you are buying Subsale units from the legal owners of the units. If the developer still has unsold units, those would be regarded as direct developer sale units. If you are still confused, then you can just imagine this is buying a resale property that is still under construction or have obtained TOP status but not CSC status.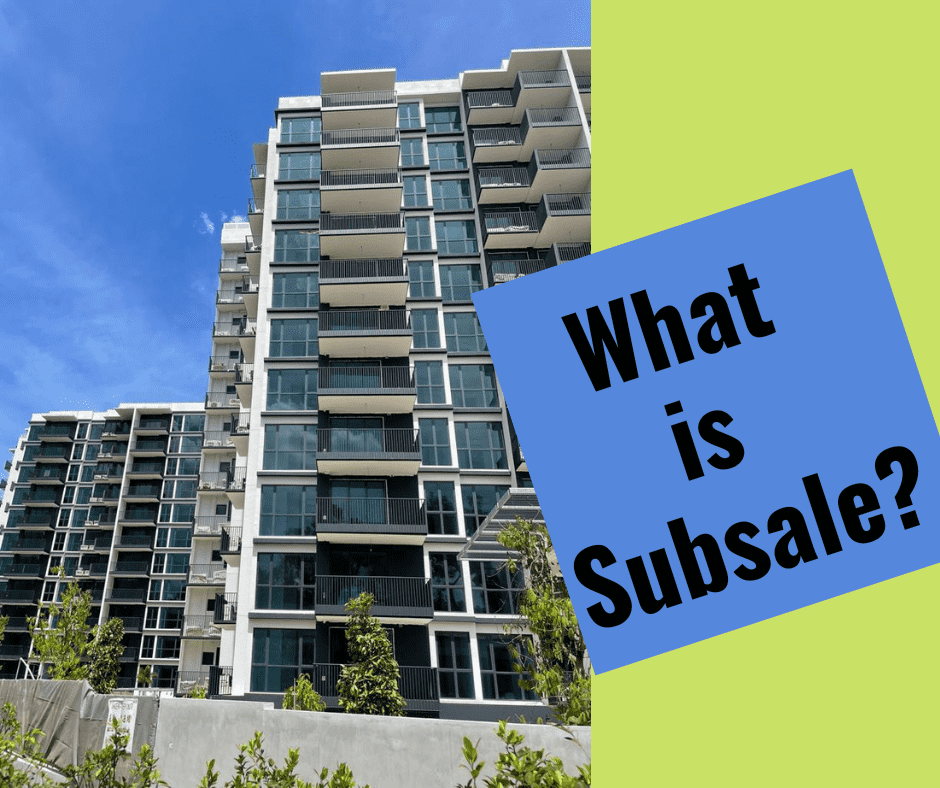 Treasure at Tampines: Why You Should Buy Subsale Units Here
Treasure at Tampines is already fully sold at the time of writing this article.  Being a Tampines resident myself, i truly find that this latest private condominium is a great place to call it your home.
Based on estimation, Treasure at Tampines will obtain Temporary Occupation Permit (TOP) around Q3 2023.  This condominium is already fully sold but you will still be able to buy Subsale units. You will find many confusing advertisements on  PropertyGuru because some of these are not legitimate listings. You would also feel confused of the many different types of layouts that are available for each unit type and the exact location of each unit type in the huge land size ~6ha which is about the size of 11 football fields.
Buying a Treasure at Tampines subsale unit now also means that you can get a brand new unit that requires very minimal renovation. Living rooms and bedrooms all comes with air conditioning units, floors are all tiled, kitchen cabinets are installed, full functional bathrooms with mirror cabinets and your sanitary wares with fittings. In summary, you probably only need to order your favourite lightings from Taobao and engage a reliable handyman to install the lightings, or order your furnitures from FortyTwo and give it a minimalist decor.
It is also possible to negotiate with the seller to give you a longer option exercise period to give you ample time to sell away your existing flat (if any) so that you will not be subjected to ABSD. You may be wondering why some sellers are willing to offer you a longer option exercise period and the reason is because such sellers want to avoid the Seller Stamp Duty (SSD). You may click to read my previous blog to understand more about SSD. Or you may reach out to me to understand more about this.
If you have been following the real estate market closely, you will know that land bid cost by developers are all getting higher. With higher construction cost from labour and raw materials due to the impact of the pandemic and Russia-Ukraine war, it means that new launches are getting more and more expensive. So the benefit of buying Treasure at Tampines subsale unit is that you are getting a brand new unit at a better deal vs getting a brand new unit from the new launches.
You do not need to worry about defects because the developer will provide 1 year defect free period to you. For example, if you have water leakage in the unit upon collecting keys at TOP, the developer will rectify the works as part of their warranty program.
With so many benefits of buying a subsale unit, let me walk you through on the reasons why living in Treasure at Tampines will be your best decision that ever will be.
Treasure at Tampines right in the heart of Tampines Treasure at Tampines right in the heart of Tampines
Do you know that Tampines is one of the Regional Centres in Singapore? Since the early days, Singapore government has identified Tampines, Woodlands and Jurong as Regional Centres. The government's aim is to decentralise central districts in Singapore and to bring jobs closer to the heartlanders. This is why you can see commercial buildings right in Tampines Central such as CPF Building, Hitachi Square building and several banks residing in Tampines Centre One, Tampines Plaza, Tampines Junction and etc. One interesting observation i have made is that despite the 3 regional centres being huge in area, they are also near to economic ports. Tampines is near to Changi Airport, Jurong has sea port and boundaries to Malaysia, Woodlands as well. I believed that Singapore has identified these Regional Centres to play an essential role because Singapore is very dependent on our ports for growth. Tourism, Importing and Exporting are vital trades for the growth of Singapore.
Being located near to Tampines Central, residents in Treasure at Tampines can choose to shop at Tampines Mall, Tampines One, Century Square or at Our Tampines Hub.
Treasure at Tampines is located next to the popular Tampines Round Market, along Tampines Street 11. The market also houses the hawker centre where you can expect a variety of food. There are several coffeeshops around and supermarket like NTUC is also available. If you have good observations, you will know that there are many shophouses in this area. With the changes in retail climate, can you foresee that many new retailers or cafes will sprout out to operate in these shophouses, offering better living lifestyle to owners staying in Treasure at Tampines.
It is possible to walk towards Tampines MRT station but it is nearer to walk towards Simei MRT station. I have walked with a few clients from the side gate (near to the Tennis Court) to Simei station and it took us about 8 minutes walk. Eventually, there will be a sheltered walkway connecting the side gate to the overhead bridge.
Right outside the condo, you have bus service 292 that will take only a few stops to Tampines Interchange. You can also access to a variety of bus services by taking 5mins walk to the bus stop (B76079) along Tampines Avenue 2 (Bus Services: 20, 8, 17, 18, 28, 34, 39, 59, 518 and 34B).
Or you could take the shuttle services that is provided by the developer free for 1 year. The shuttle service will drop you off at Tampines Interchange and Changi Airport!
Those who are driving can quickly access to PIE via the slip road that is right next to Treasure at Tampines.
What are the available Subsale Units available in Treasure at Tampines?
You can actually check through the portals and contact every single agent to find out what is available but why do you want to waste your time doing this? 
I already have a legitimate list of units that are available and the asking price. You do not pay any commission to me for your purchase because I am cobroking from the sellers' agents. Moreover i am able to help you to identify which is the best buy that suit your needs.
Moreover, I was the developer's appointed sales person during the launch till it was fully sold and i know the project very well.
Reach out to me to have a free consultation so that i can understand your needs better.