I really think Singapore is probably the only country where it introduces such a unique housing product, where an Executive Condo (EC) is a subsidised housing built by private developers and only eligible households can buy and own a brand new EC. ECs are very similar to private condominiums because it also have condo like facilities such as swimming pool, gym, function room, barbecue pits and etc. 
Owners of new ECs are subjected to Minimum Occupation Period (MOP) of five years. During the 6th to 10th year after completion, units can be sold to Singaporeans or PRs (We call it Partially Privatised). After 10 years, all restrictions are lifted and it becomes Fully Privatised.
As a real estate agent, it is common for many of my clients asking me about executive condo and how different it is as compared to private condos. So i hope this guide is concise enough to break down the chunky information for you to understand EC easily. 
In summary, EC eligibility needs to fulfil a few checkpoints.
Combined income ceiling of the applicants and essential occupiers must not exceed $16,000 per month. Do not worry even if you exceed slightly, I can provide you with free consultation and guide you on what you can do.
Applicants must be either first timer buyers or second timer buyers. First timers may be eligible for housing grants up to $30,000 (We will talk about the Housing Grant and Resale Levy below). 
Second timers are applicants who have bought a subsidised HDB flat directly from HDB such as (BTO, DBSS, EC) or have bought a resale flat and taken housing grant. 
Both first timer and second timer buyers must not own  any private residential properties or have disposed any private residential properties within the last 30 months from day of booking an EC.
Applicants can apply for a new Executive Condo under the various eligibility schemes such as Public Scheme, Fiance/ Fiancee Scheme, Orphans Scheme and Joint Singles Scheme. 
You can apply under this scheme if you are able to form a family nucleus with:
Your spouse and Children (if any)
Your parents and siblings (if any)
Your children (if you are widowed/ divorced)
This is pretty self explanatory. You do not need to rush into marriage as you have sufficient time to submit a copy of your marriage certificate to the developer within 3 months of collecting your keys.
This is rather unique case as I have not come across such applicants yet. The criteria is that under this scheme, all applicants (you and your siblings) are orphans and single. Meaning to say, you are not married, divorced or widowed). Also, 1 of the deceased parents was a Singapore Citizen or Singapore PR.
This scheme is getting more common as I do come across siblings applying for an EC together. The criteria are all applicants must be Singapore Citizens and single and at least 35 years old and applying jointly as co-applicants. 
You can refer to HDB website for the full explanation on EC eligibility and the required documents. 
Where to purchase the Executive Condo?
The developers of every new Executive Condo have their showflat open to feature the site model and show units. The showflat location may not necessarily be on the actual site of the EC. This is why it is important to check on the showflat location, make an appointment before heading down. This is also because of strict safety distancing measures put in place by the authorities to ensure that the showflat do not suddenly experience over capacity of visitors to avoid the widespread of covid virus.
Say you have decided that you want to book a unit at Parc Greenwich EC, you will submit an E-app at the showflat, place a booking fee of 5% either by cheque or bank transfer and get the OTP (Option to Purchase) of the unit that you are booking. On this day, you will also be signing mandatory HDB forms such as Letter of Undertaking to sell your existing HDB flat and etc. Thereafter you will submit your documents such as income or salary payslips, marriage certificate, and etc. The developer will submit these documents to HDB team for them to approve the purchase. Once approved, HDB will instruct the developer to send the S&P (Sales and Purchase Agreement) to your law firm.
Normal and Deferred Payment Scheme for Executive Condo
The unique thing about EC is that it offers 2 types of payment schemes. The NPS (Normal Payment Scheme) is identical to Progressive Payment Scheme when buying a private (BUC) Building Under Construction. You will be making payments or mortgage loan depending on whichever the stage of construction is completed. 
DPS (Deferred Payment Scheme) offers a more flexible payment scheme but you will pay a 3% higher price than the NPS price. In earlier example, if the NPS price of the EC is $1,000,000, then the DPS price of the same unit is $1,030,000. Look at the diagram below to see the differences. The example I show is assuming that the buyer is buying in full cash. 
For clarification, please feel free to contact me for free consultation.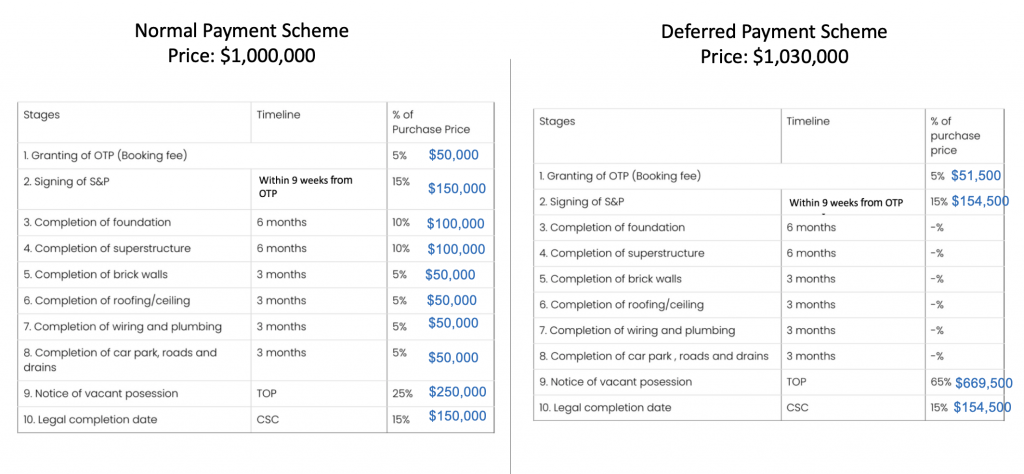 EC buyers are only subjected to Buyer Stamp Duties (BSD). Even if you own an existing HDB flat and have booked a brand new EC, you will not be required to pay Additional Buyer Stamp Duties (ABSD). However, if you own an existing HDB flat and has exercised the purchase of a private residential, you will be required to pay for ABSD.
Getting a bank loan for your brand new Executive Condo
Have you heard of MSR vs TDSR?
MSR stands for Mortgage Servicing Ratio and it is the framework used by banks to assess your loan amount when buying a HDB or brand new Executive Condo. The MSR framework is designed to ensure buyers are prudent and not to over leverage on bank loans. 
TDSR is known as the Total Debt Servicing Ratio and it is the framework to evaluate your loan amount when buying a private property. 
So, you will be subjected to MSR when you are buying a brand new EC. To give you a rough example, Husband and wife are both 35 years old. Combined Income is $8,000. The estimated loan amount that the bank will approve are as
MSR (NEW EC): $545,000
TDSR (Private): $1,069,000
(Notice that TDSR is almost double of MSR loan amount.)
Eligible first timers can get housing grants. The amount will be disbursed in the form of CPF and will be credited into your CPF accounts as soon as HDB approves your purchase. The amount can be used for paying part of the property or for use on the stamp duties. 
Resale Levy for Second Timers buying an Executive Condo

You can regard Resale Levy like a clawback by HDB. You have to pay the resale levy in Cash when you have sold off your first subsidised flat (HDB,DBSS, EC) and is now buying a 2nd subsidised flat (HDB Build-To-Order BTO/ SBF or EC).
If you have already sold off your first subsidised flat years ago and is now staying in a resale flat, you will need to pay the resale levy immediately when you book the new EC from the developer. 
A good asset to grow your wealth!
Through so many examples, EC has shown to be a consistent wealth growing asset to my clients. Taking just one random example using The Topiary, despite its location not near to MRT station, yet you can see that there are total of 158 profitable transactions as of 18 November 2021. The profit captured as high as $500,000! 
If you can see the opportunities and want to understand more on how to leverage on EC for growing your wealth, reach out to me by clicking on the blue bubble at the bottom right page.