What is Asset Progression?
Asset progression is a term you may have heard quite a few times recently. It is becoming a standard jargon mentioned by real estate agents today. However, many agents misinterpret its true meaning and I'll explain further.
Firstly, the word "asset" means something valuable and in real estate, we commonly link properties as assets. "Progression" means the path towards a more advanced state. So in my words, Asset Progression means to move your properties towards a more advanced state.
Many agents out there misunderstand by stating asset progression to an advanced state means upgrading to private residential, such as condominiums or landed houses. This isn't entirely true. We all have different goals at different stages of our lives. 
For example, a couple in their 60s are both retired and living in a landed property are thinking of asset progression. Their objectives are to right size to a 2 bedroom private condominium at the price tag of $1,000,000 so that they can retire comfortably after selling away their landed and fully pay for their 2 bedroom condo without taking a loan. 
Another example, husband and wife in their mid 40s and have 2 children living in their 4-room HDB flat. They are exploring to invest into a commercial property as a form of passive income. This is another valid example of asset progression when they finally invest into a commercial property. Asset Progression is happening as long as it can help you to achieve your real estate goals or objectives.
In my sharing today, I'll use residential segment in relation to this topic and I will also share some options to readers here who are looking at some options for their next home. 
Foreigners are able to buy private apartments or condominiums in Singapore. Foreigners can buy more than 1 private properties in Singapore but applicable taxes will apply (ABSD) and we will share more about the tax structure below.
Private Residential
New launches or resale properties are fine as long as they meet your needs and requirements. Always be clear about your objectives and remain open to learn about market trends. More importantly, you must understand your financial picture for your purchase. You must be aware of the stamp duties applicable too. 
Calculators are available online for checking the amount of the loan, or you can work with any mortgage banker to obtain the figures. The mortgage loan structure for a resale property is different from that for a new construction property. The latter is based on progressive payment structure and also allows the usage of CPF OA on your stamp duties. While for private resale, you have to pay your stamp duties in cash first and will be reimbursed on completion if you have sufficient CPF for use. 
Buying a resale private property provides you with the benefit of moving in faster, as well as collecting rental income immediately while paying the mortgage, maintenance fees, and property taxes. A resale private property is usually safe since it is cheaper than new developments. However, the prices of resale properties tend to stagnate over time. You are likely to spend more on maintaining the property.
New launch properties have the disadvantage of a longer waiting time to obtain keys, but the mortgage you pay through the progressive payment is smaller, and you do not need to pay maintenance fees or property taxes beforehand. In fact, new launches tend to be ready for occupancy after installing lights in the unit when you collect the keys, requiring very minor renovations. The best part is you will be able to gain capital over time, which means you are building capital with your asset.
HDB flats
For first timer buyers who are exploring BTO, they would usually have to wait up to 5 years for the BTO to be completed in order to move in. To apply for BTO, you can refer to announcements in HDB page or newspapers regarding the sales launches. Information such as the location, indicative prices and number of units offered will be available. Take note that you also have to be eligible to buy a flat from HDB. (You can click on this link to check your eligibility> https://www.hdb.gov.sg/residential/buying-a-flat/new/eligibility/hdb-flat) 
Then you can submit to apply for the flat online via HDB Flat Portal during the 1 week application exercise and make payment of $10 as admin fee. 
HDB will consolidate all applications and go through a balloting process. Applicants will then be informed of the results of their queue number. 
HDB will invite you to HDB Hub to book a flat based on your queue number. You then proceed to choose the unit based on your choice and availability. Once you sign the Agreement for Lease, buyers will be required to place 10% downpayment if they are taking a HDB loan or 20% downpayment if taking a bank loan. Finally, buyers just wait anxiously for the BTO to complete its construction and collect keys. The balance payment will be required either through cash, CPF, loan or a combination.
To get a resale HDB, you need to follow two simple steps: Register your Intent to Buy with HDB Resale Portal to confirm eligibility and apply for (HDB Loan Eligibility) HLE or bank loan. You should not view houses until you have an idea of how much financing you can get. Before shortlisting houses to see, figure out your total amount of funds available. 
I have listed the differences in getting a BTO over a resale HDB in the picture below. 

Consider: Freehold or Leasehold?
Some of us may want to keep a property forever as a legacy for our future generations. I do know of clients whose grandparent left behind very old freehold properties and are giving passive income for the younger generation. Hence, freehold properties is a good choice for legacy planning. 
However, if you intend to progress to another home eventually, my suggestion is to open up your options and explore the leasehold properties too. Many people buy a freehold property thinking that the price can be preserved or better still, appreciate over time. This is generally true, but do not forget that the condition of the property will also deteriorate over time if the whole development is not maintain in well manner. This will turn off potential buyers and you may find it harder to find the right buyer. 
Consider: Location really matters?
I think it is important to decide what are the core requirements for you and your family. I have served one client before and his requirement is for his kids to be easily accessible to Bukit Batok MRT station and even identified very specific blocks in Bukit Batok Central. As I knew the next home is his final home and the kids are all in secondary schools now, I presented to him the option to explore the 5 room HDB which are 1-2 stops away to Bukit Batok Central, because the average transactions of 5 room slightly further away is around $550,000 during the same time.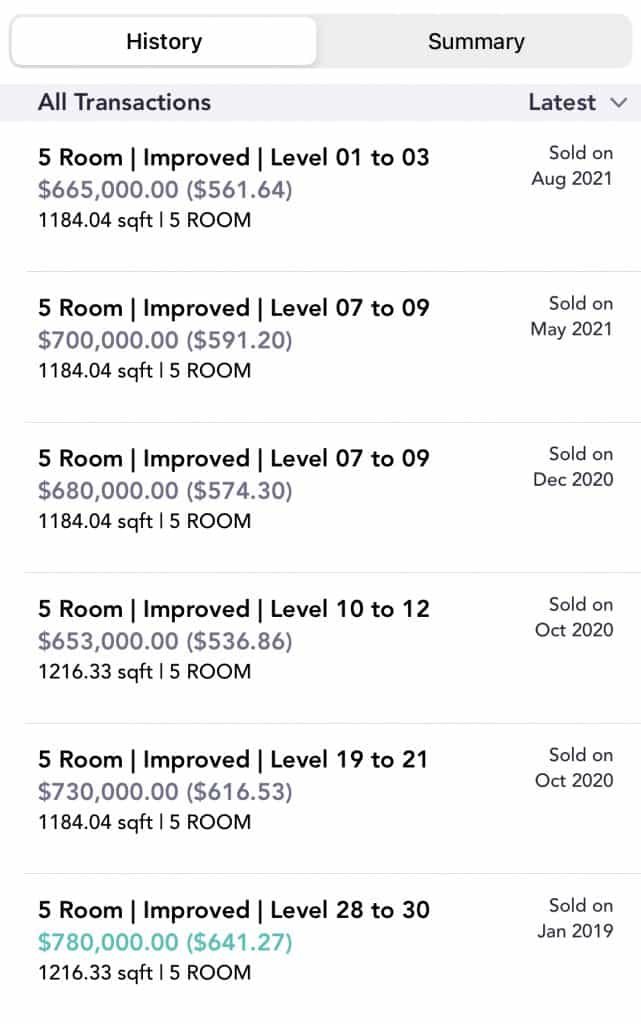 Eventually he decided that his priority is accessibility and bought a 5 room resale HDB at Bukit Batok Central. It fulfils his requirements as it is just minutes walking distance to the mall and MRT station. I negotiated for him a high floor unit at $653,000 while the average transaction in the area at that time were hovering higher than $700,000. 
The clients are approaching their 50s and they used up their entire CPF for this 5 room flat. If they had decided for a home slightly further away, they would be able to save $100,000 in their CPF for their retirement. But hey! What is important is that this client is happy with his family enjoying family moments in this new home. 
So the above example tells us that you generally will pay a premium for a better location flat but ask yourself if it is a must have or good to have requirement?
At the end of the day, I will always have a discussion with my clients and ask them several questions and giving them several options to help them arrive at a firm direction. 
Is it possible to sell 1 property and buy 2 properties?
When it comes to asset progression, you could have seen many videos about sell 1 buy 2. What it means is to sell your existing property to free up your cash/ CPF stuck in the existing property and proceed to buy 2 private properties under you and your spouse's name. I have helped clients progressed from 1 property to 2 properties before and this is truly attainable. However, the prerequisite is having sufficient financial resources in order to do this.
It is almost everyone's dream to be able to own more than 1 property but I urge you to review your position once every 2-3 years to see where the market is and whether it is financially sound to do so.
A journey starts with a simple step
Above are possible options that are part of your asset progression journey. It is important to set up clear objectives at the start of every asset progression process and it will be good to have a review once every 3-5 years. Every step you make sets the path for your next stage. If you are ready to start on the journey, let us have a discussion and understand what you want to achieve to set the direction together.